High product protection, high personnel protection and sustainability combined.
Containment packaging has been our speciality since the turn of the millennium. Regardless of the manufacturer of your filling system, whether horizontally compressed or vertically folded, antistatic or dissipative, we assemble the containment packaging individually tailored to your requirements. For this reason, we determine all relevant requirements in a joint discussion and show you all possible options.
In our portfolio, you will find various common containment packaging solutions as well as the IDF Special-Liner, which enables us to meet individual one-off requirements for you.
Flexible use of containment packaging
to fulfill the REACH regulation up to OEB class 6.
Containment packaging has been developed for dust-free, closed filling and emptying of toxic, active or other sensitive products. Especially the increasing requirements in the REACH regulation which has increased the focus on personal and product protection
Since the substances to be filled do not all have the same toxicity, containment systems are divided into different classes, which are clearly shown in the following graphic. OEL values (Occupational Exposure Limit) classify the substances and systems by quantifying the amount of active substance per standard cubic meter of breath that a person can be exposed to for eight hours without their health being impaired.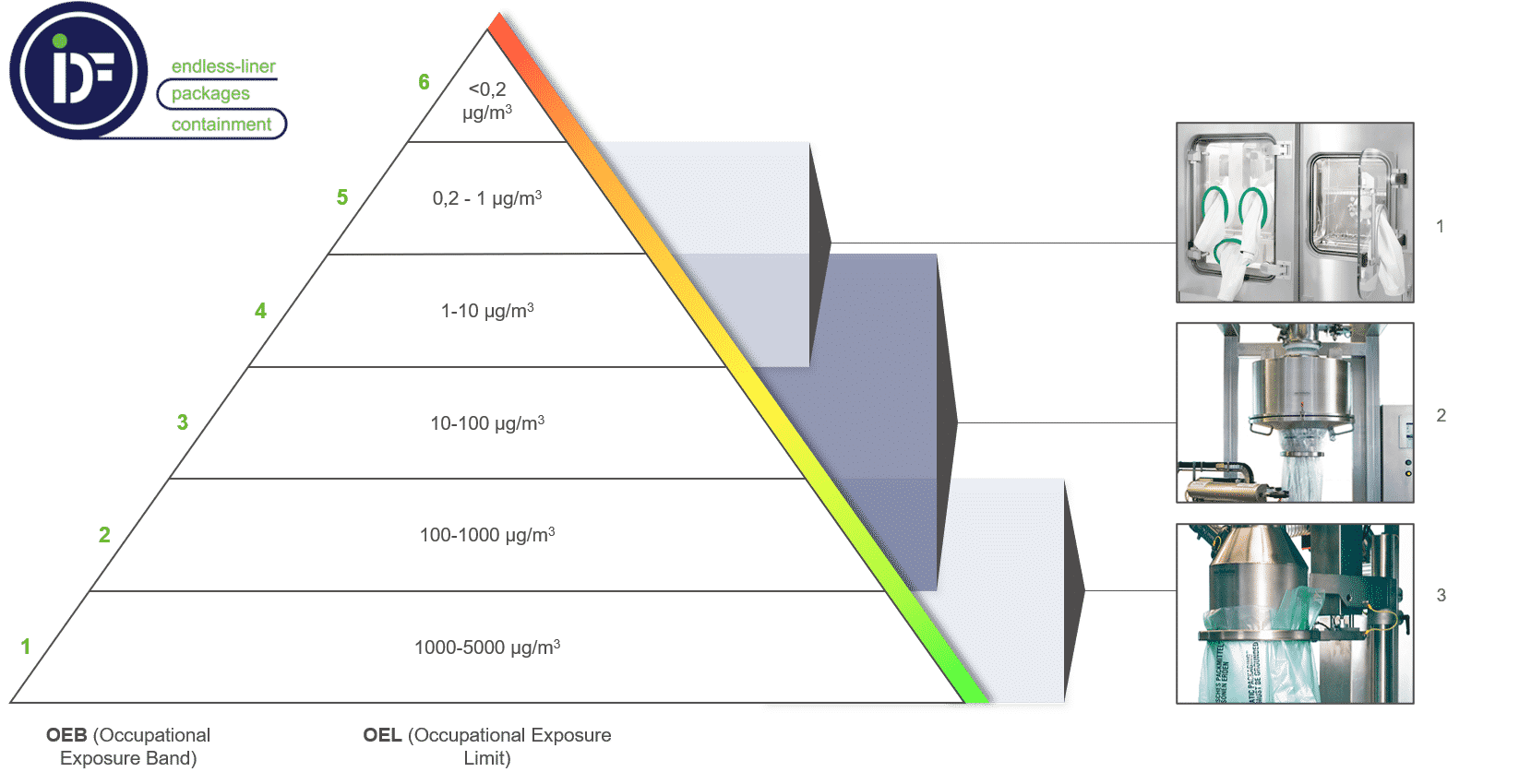 2: Closed transponder systems
3: Controlled aspiration systems
With its containment packaging, IDF GmbH & Co. KG offers the optimal product to fulfil the strictly controlled conditions of the REACH regulations up to OEB class 6.
Containment packaging is a cost-effective alternative to full personnel protection and filling booths. We are happy to advise you on the REACH regulations, OEL and OEB.
Applications of IDF Containment Packaging.
– Contamination-free change of HEPA filters
– Removal systems for clean rooms and isolators (bag-out systems)
– When filling as primary packaging in open secondary packaging such as boxes, barrels, fiber drums, aluminum-lined bags, and more
There are many advantages of IDF containment packaging. Such as dust-free handling, e.g. in the filling of active ingredients, optimum protection for product and personnel, and saving a shelter design. 
Learn more about our continuous film and liner packages.