Highly effective cleaning - made in Germany.
Especially concerning cleaning processes for validation, which must be replicable at any time, powered cleaning devices offer great advantages. Since they are mostly driven externally the rotational movement can be monitored. Jet cleaners often take on the intensive cleaning of tanks, containers, and other closed system components. The devices, which operate in the pressure range from 3 to 50 bar, and in special cases also up to 70 bar, are driven either by an external electric or pneumatic motor or by the cleaning agent itself.
All jet cleaners (ZSR) are available in 2,3 and 4-jet versions and enable 360 ° full cleaning.
We are happy to advise you and are looking forward to hearing from you.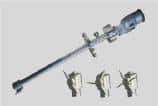 Container size: 
depending on the cleaning means and the product to be cleaned, up to 25, 500 or 1000 m³
Working pressure & working temperature:
Working pressure: 1-60 bar, higher on request
Working temperature: 0-110°C, higher on request
Ports/Connections
RD52 x 1/6 ;
Optional: Flange connection according to customer specification
Installation opening: 
DN25 for stationary installation
DN 60 for mobile installation
Installation lengths:
150-100m, longer on request
Optional supply pipe in modular design for easy length adjustment, polished design
Benefit from our know-how in a personal consultation.